Since we left we've spent a bit of time in Texas. One thing I've learned about the weather here is that it is similar to Florida's weather but like Florida's drunk cousin.
At any given moment on a calm day the wind can pick up to 20-25 miles per hour.
Or start hailing.
Or whatever it pleases…
After all, they do things a bit different 'round here.
Snow and power outages
Two weeks before we arrive, much of the state of Texas was without power and in below freezing weather for days.
When we arrived, we noticed a lot of palm trees dead from the freeze.
Everyone who was here is still talking about the winter from hell.
Austin Umbrellas
A couple of years ago I was in Austin for a conference. From my hotel room, I noticed that it had started to rain.
I really wanted to grab a bite to eat. I had an umbrella. Being a Floridian, I thought a little rain would be no problem but when I walked outside and around the corner from the shelter of the building, I realized that this rain was different.
The umbrella wasn't helping since the rain was coming in sideways.
Like straight sideways – hitting my face from under the safety of an umbrella.
It was pretty impressive as the wind was so powerful and consistent that I had to lean into the wind to walk.
This rain and wind was different than what I am used to.
Driving with Texas crosswinds
Fast forward to the past two weeks.
Driving through Texas with 12-15 mph crosswinds winds with a trailer felt like swaying side to side on a cruise ship in rough waters.
It was so bad that the first night I still felt the swaying while I was laying in bed.
Dust tornado
Since we've been here I've seen 5 or 6 dust tornados like this one. Some smaller. Some larger.
"Hailnado"
Then while in Texas we had two hail storms with tornado warnings.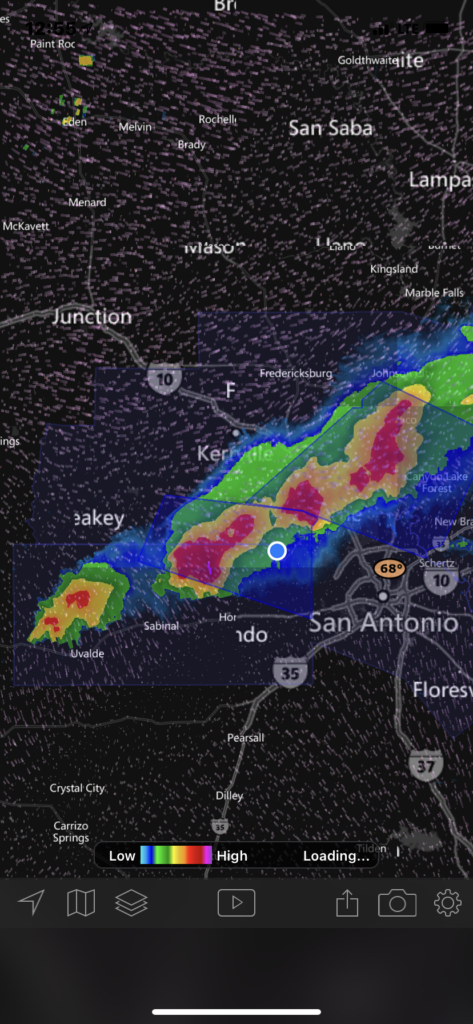 Otherwise the weather was beautiful. Low humidity. 75 degrees.
Maybe the devil went down to Texas, not Georgia.